Start writing here...
In the realm of pharmaceutical manufacturing, quality and safety are of paramount importance. Adhering to Good Manufacturing Practices (GMP) is not merely a regulatory requirement; it is the cornerstone of ensuring that medicinal products consistently meet the highest standards. One critical aspect of GMP is the process of Commissioning, Qualification, and Validation (CQV), which entails a thorough assessment to determine the depth and content of these activities. 
RoadMap for Commissioning& Qualificatio
It is essential that activities performed to assure proper facility design and commissioning precede process qualification and validation

Here, the term qualification refers to activities undertaken to demonstrate that utilities and equipment are suitable for their intended use and perform properly.


These activities necessarily precede manufacturing products at the commercial scale. 

HOW TO MAKE DECESIONS ABOUT THE SCOPE AND EXTENT OF COMMISIONING, QUALIFICATON, AND VALIDATION?
To decide what to commission, qualify and/or validate is based on impact assessment of the system.
WHAT IS SYSTEM IMPACT ASSESSMENT?
It is the process of evaluating the impact of the operating, controlling, alarming, and failure conditions of a system, on the quality of a product, and the critical components within those systems are identified.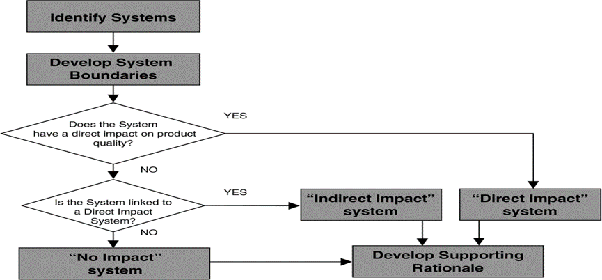 HOW TO CONDUCT IMPACT ASSESSMENT?
Applicability of any of the following criteria will provide an indication that a system has a "Direct Impact":
1) The system has direct contact with the product
(e.g., air quality)
2) The system provides an excipient, or produces an ingredient or solvent
(e.g., water for injection)
3) The system is used in cleaning or sterilizing
(e.g., Clean Steam)
4) The system preserves product status
(e.g., Nitrogen)
5) The system produces data which is used to accept or reject product
(e.g., Electronic Batch Record System, or critical process parameter chart recorder)
6) The system is a process control system that may affect product quality
(e.g., PLC, DCS)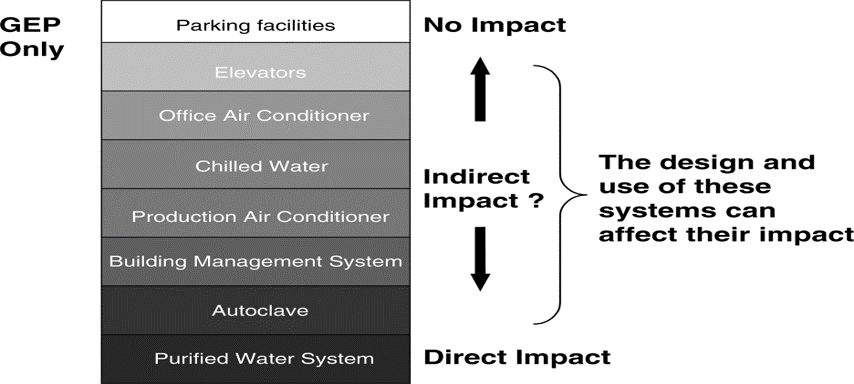 KEY DEFINITIONS AND PHILOSOPHY:
A "Direct Impact" system


These systems are designed and commissioned in line with Good Engineering Practice and in addition, are subject to Qualification Practic


An "Indirect Impact" system'


Is not expected to have a direct impact on product quality, but typically will support a "Direct Impact" system.


These systems are designed and commissioned following Good Engineering Practice only.


A "No Impact" system


Will not have any impact, either directly or indirectly, on product quality.


These systems are designed and commissioned following Good Engineering Practice only.